Melee
Melee are real-time combats held between two players. Each player start with a limited number of credits and design a fleet. The fight begins as soon as both players are ready. Great for fast and fun action!
You earn XPs and credits for each ship you destroy. You also earn credits for the components you salvage. More credits will allow you to design a larger fleet on your next combat.
For Online Melee though, the player who creates the melee decides the amount of credits each player has. Fighting Online Melee doesn't add to your character's XPs for other online games.
(Click an element of the image for a description)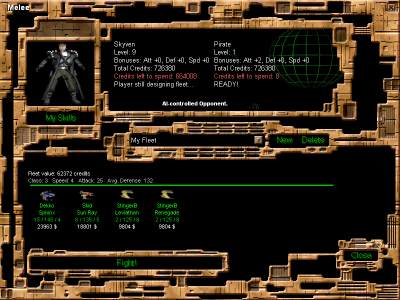 | | |
| --- | --- |
| 1. Character | Click this to view and upgrade your character's skills |
| 2. Players | Various data about you and your opponent. When the last line says READY, the player has finished customizing his fleet and is ready for combat. |
| 3. Fleet Combo | Select a fleet you already designed from this combo. Use the 'new' button to add a new fleet to the combo box. |
| 4. Fleet Details | Details about your fleet and ships. Click a ship to enter the Shipyard and modify its configuration to to add a new ship. |
| 5. Fight | Click this button once you've done designing your fleet to start the combat! |