Title Screen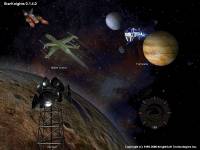 Melee
You start with a big wallet. Put a fleet together and test it out in a real-time duel against the computer!
Full Game
Complete exiting missions. Build your empire and your fleet. Seek out the enemy and conquer the Universe!
Internet
Play the two previous modes with and mostly against other players from around the world!